SENIOR HEALTH INSURANCE
PROGRAM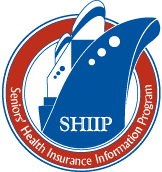 The Seniors' Health Insurance Information Program (SHIIP) counsels Medicare beneficiaries and caregivers about:
Medicare Health Coverage

Medicare supplements

Medicare Advantage

Medicare Part D.
The counselors provide free and unbiased information regarding Medicare health care products. We also help people recognize and prevent Medicare billing errors and possible fraud and abuse through our NC SMP Program. Extra Help application assistance can also be provided to lower prescription cost for Medicare Beneficiaries.
Annual Election Period October 15th – December 7th
State SHIIP Contact: (855)408-1212 (toll free)
Bladen County:
Bladen Division
on Aging
608 McLeod Street
Elizabethtown, NC
(910) 872-6330
Hoke County:
Senior Services of
Hoke County
423 E. Central Avenue
Raeford, NC
(910) 875-8588
Richmond County:
Richmond County
Aging Services
​
​
22 S. Lawrence Street
Rockingham, NC
(910) 997-4491
Robeson County:
Lumber River Council
of Governments
Area Agency on Aging
30 CJ Walker Road
Pembroke, NC
(910) 618-5533
Scotland County:
Scotland Place
Senior Center
1210 Turnpike Road
Laurinburg, NC
(910) 277-2550
The North Carolina Senior Medicare Patrol (NCSMP) Program is housed within the Seniors' Health Insurance Information Program (SHIIP) at the North Carolina Department of Insurance. NCSMP is a preventive educational program whose goal is to reduce Medicare error, fraud and abuse through statewide coordinated efforts of educational and promotional activities and to encourage reporting of discrepancies by Medicare beneficiaries and caregivers to the NCSMP Program.
NCSMP's purpose is to educate Medicare beneficiaries and caregivers about Medicare benefits in order to understand Medicare Statements such as Medicare Summary Notices, Medicare Part D Prescription Drug Plan (PDP) Explanations of Benefits (EOB) and other related health care statements. Through this knowledge, a person can identify, resolve and/or report possible billing errors, fraud, abuse and waste to NCSMP.
Did you know?
68 billion dollars of the taxpayers' money is lost annually to billing discrepancies, fraud, abuse and waste in the Medicare program?
"Fraud and abuse" in the Medicare program often times are actually billing errors or discrepancies?
The process of reporting suspected fraud abuse and waste is to contact the provider to seek resolution;
to contact their Medicare carriers and insurance companies and to file an appeal by following the appeal instructions found on the back of the Medicare Summary Notice?
And if your situation is not resolved satisfactorily, you should contact the North Carolina SMP Program at the nationwide toll free number, 855-408-1212?
Remember to:
Review your Medicare statements

Protect your Medicare number

Do not be influenced by advertising for services, medications or products that sound "too good to be true"

Educate yourself about your Medicare benefits rarely are Medicare services "free"

Medicare does not solicit door-to-door
Protect...Detect...Report
Contact NCSMP at:
855-408-1212 (toll free)